KERAMAT RAPID 10102020
Pengumuman Penting Terkini (7 Oktober 2020):
regretfully and for the benefit for all, we have decided to postpone the Keramat Rapid scheduled on 10 Oct to future date. Currently we don't have the new date as we still monitor COVID19 status. Players who have registered for Keramat Rapid can request for the refund by provding accno and player name to 01139004176 or

https://wa.me/601139004176

.
Pengumuman Penting (5 Oktober 2020) :
Kepada sesiapa yang sudah mendaftar untuk kejohanan ini tetapi belum memberi respon kepada soalan berikut, sila beri respon secepat mungkin:
Kejohanan Catur Keramat Rapid tinggal beberapa hari lagi. Kita masih mendapat berita banyak kes COVID-19 yang semakin bertambah setiap hari. Ini agak merisaukan terutama ibubapa pemain yang telah mendaftar untuk Keramat Rapid, walaupun Keramat belum dikira Hotspot ketika ini. Pihak kami mengikuti perkembangan dengan teliti.
Walaupun pemulangan wang yuran tidak dibenarkan sebelum ini, tetapi kerana kita memahami keadaan isu semasa, pihak kami ingin memberi peluang jika sekiranya ada pemain yang ingin menarik diri? Pemain-pemain diberi pilihan:
a) masih mahu menyertai jika masih dijadualkan pada tarikh 10 Oktober 2020.
b) tidak mahu menyertai pertandingan pada 10 Oktober 2020 tetapi simpan nama untuk kejohanan akan datang bila tiba masanya. nama akan di utamakan untuk pendaftaran kejohanan itu
c) tidak mahu menyertai pertandingan pada 10 Oktober 2020 dan saya minta pemulangan wang yuran. Sekiranya ada pertandingan akan datang, saya akan daftar kemudiannya dan bergantung pada kekosongan.
Sila Whatsapp 0183889900 di https://wa.me/60183889900 bersama pilihan anda dan nama pemain. Jika anda memilih pilihan c, sila sertakan no akaun bank anda.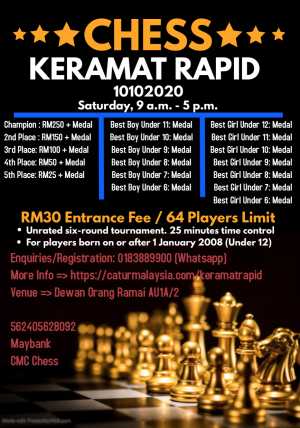 (Click Above Picture To Open In Original Size)
Date: 10 October 2020 (Saturday)
Venue: Dewan Orang Ramai AU1A/2 (Google: https://goo.gl/maps/1LHC4ZA8AVfD88qC7 or Waze: https://www.waze.com/ul?place=ChIJaZOm9b03zDERMkignJXlZHo&ll=3.17058720%2C101.73652830)
Participant Limit: 64 players only
Tournament Format: 6 Rounds Swiss System.
Time Control : 25 minutes time control.
Rated : No
Schedule:
| | |
| --- | --- |
| 8:00am - 8:30am | Player Verification |
| 8:45am | Briefing, Round 1 |
| 9:45am | Round 2 |
| 10:45am | Round 3 |
| 11:45am | Round 4 |
| 2:00pm | Round 5 |
| 3:00pm | Round 6 |
| 4:15pm | Closing Ceremony/Prize Giving |
Registration/Enquiries: Kindly Whatsapp to 0183889900
Account Information: CMC CHESS , Maybank , 562405628092
Tournament Whatsapp Group: https://chat.whatsapp.com/KSjzKg5TwVrIdzeIWSoL2b
Registration Procedure:
1. Whatsapp to 0183889900 with following text : "Keramat Rapid 2020, # players" where # is number of players to register.
2. If not yet full, you will receive respond "Proceed for # Players" as a reply. (Kindly give ample time for the respond. Organizer will respond based on sequence.)
3. You have to make payment to the above account and send the receipt as picture attachment to 0183889900 for proof of payment within 2 hours after you receive the SMS respond you receive on step 2.
4. You will receive confirmation respond once organizer verified the payment.
5. Kindly provide players information (1. Name, 2. Mykid No, 3. School. 4. FIDE ID if applicable.) Note: If don't have FIDE ID, no problem, still can join)
6. Please select Instant Transfer to avoid problem when making payment.
7. If the tournament is full, you can inform that you are willing to be in the queue, so that when anyone withdraw, we can arrange for those in queue to participate.
Note:
1. Due to limited space, we only accepting 64 players.
2. No refund for any cancellation. However swapping is allowed before 8:00pm 9 October 2020. Any changes after stipulated time, is depend to organizer discretion which RM10 fee may be imposed.
3. Any sick players are advised to withdraw. Note number 2 is applied. Any players found to be sick on the day of the event, will be asked to be removed from the event and no refund will be entertain.
4. All players are required to bring and wear mask during in the area.
5. No handshake.
6. Hand Sanitizer will be provided.
Venue Information:
1. Nearest LRT Station (Kelana Jaya Line) : Setiawangsa